If I could live anywhere in the world, all I know is that a beach would be involved.  And I recently got to fulfill my little life's fantasy by taking some time off to visit the Hawaiian islands of Kauai and Oahu.  Lemme tell you friends, it was nothing short of pure bliss.  I just fell in love with the idea of embracing a simple lifestyle in a beautiful place with passionate people.  **SIGHHH** I wanna go back!  But until then, here are some of my Hawaiian highlights for ya:
Waimea Canyon State Park had gorgeous overlooks.  (And if you're lucky, it'll rain just enough for a rainbow to appear!)
Hamura Saimin is a local favorite for ramen bowls, but I personally LOVED their Chiffon Pie.
Setting sail with Capt. Andy's crew to see the Na Pali coast at sunset was one of my favorite activities from the entire trip!  Our Chef was even kind enough to share with me his recipe for the purple sweet potatoes (which are jam packed with antioxidants) we enjoyed that night.  (See recipe below.)
The Coconut MarketPlace Farmers Market was just a hop, skip, & a jump from our hotel so we picked up some local produce, including dragon eyes (aka longan) & mangos.
Sadly, we got rained out at Anini Beach.  (Be prepared for showers when on the "Garden Isle"!)  So we went chasing Opaekaa Falls instead.
Ate one of the best meals in Kauai at the The Green Pig food truck to pig out on some seriously yummy porky grinds.  Then after, walked off our feast at the Kapaa Bike Path (across the street) at sunset.
We island hopped to Honolulu and walked along the famous Waikiki Beach when we got in.  (It's quite the popular place with many more people than anything we ran into in Kauai.)
We stuffed our faces with Leonard's Bakery malasadas.  These amazing Portuguese donuts are covered in sugar, sometimes cinnamon, sometimes stuffed, but all the time delicious!
Then we only had the energy to be beach bums at Kailua Beach Park.  But don't worry, the fasha & I got to snorkel with sea-life at the Hanauma Bay Nature Preserve.
And our last hoorah involved driving the entire North Shore of Oahu.  While I didn't witness any 20-foot waves, it was a lovely way to see other areas of beautiful Oahu.

Capt. Andy's Purple Sweet Potatoes: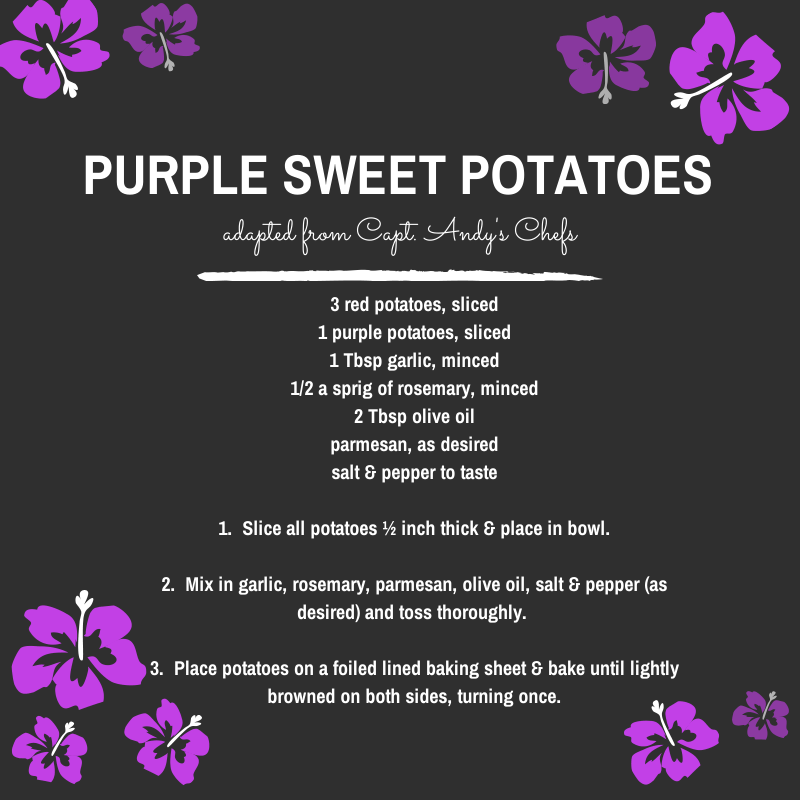 After this Hawaiian adventure, I can't help but dream about a life in paradise.  Who's ready to pack up and move with me?!
aloha,
lj