Why is it that when you go on a boat ride, you immediately start getting a craving for a snack?  You have reached the best place for boat snack ideas to help you find easy boat food.
When you think about packing boating snacks, think about hand held food items, finger foods, and no mess boat day snack ideas. Boat snacks do not have to be limited to hot dogs and potato chips. Instead, there are so many more options including finger foods, appetizers, packaged snacks, and nutritious items as well. Use this list below to help you choose the type of snack that you want to bring on your next boat trip.
All of the ideas that we have listed below are also great pontoon boat food ideas as well.
Finger Food Ideas for Boat Snack Ideas
When getting ready for a boat ride, it can be a task to get ready.  When you think about snacks for the boat, it might not be a surprise that finger foods work very well.  No forks or spoons necessary.  Just grab the snack and eat. Here are some of the best finger foods ideas:
Boat Snackle Box
The snackle box is a tackle box style of snack box.  In this box, you can add lots of finger food items.  Some great examples for adding to this box are grapes, cheese, crackers, pickles, olives, pepperoni. Here is a quick recipe on building the snackle box. This is one of the best finger food ideas.
Caprese finger food with Mozzarella Balls
The caprese finger food is based on the caprese skewers.  If you pack something on a stick, make it a lollipop stick or pretzel stick.  Skewers and boats are not likely a great combination for a snack.
Popcorn
The perfect snack for a boat right that does not need refrigeration is popcorn.  Popcorn has fiber and helps to keep you full on the boat ride.  Plus the satisfying crunch and light feeling of the snack is ideal.
Pickles
Sometimes a pickle is super refreshing on a boat ride.
Pepperoni
When you are looking for portable protein, a good idea is pepperoni. 
In the list above these are some of the best finger food for boating, however, there are so many additional options.  Be sure to check out the boat snack ideas for packaged items below as well.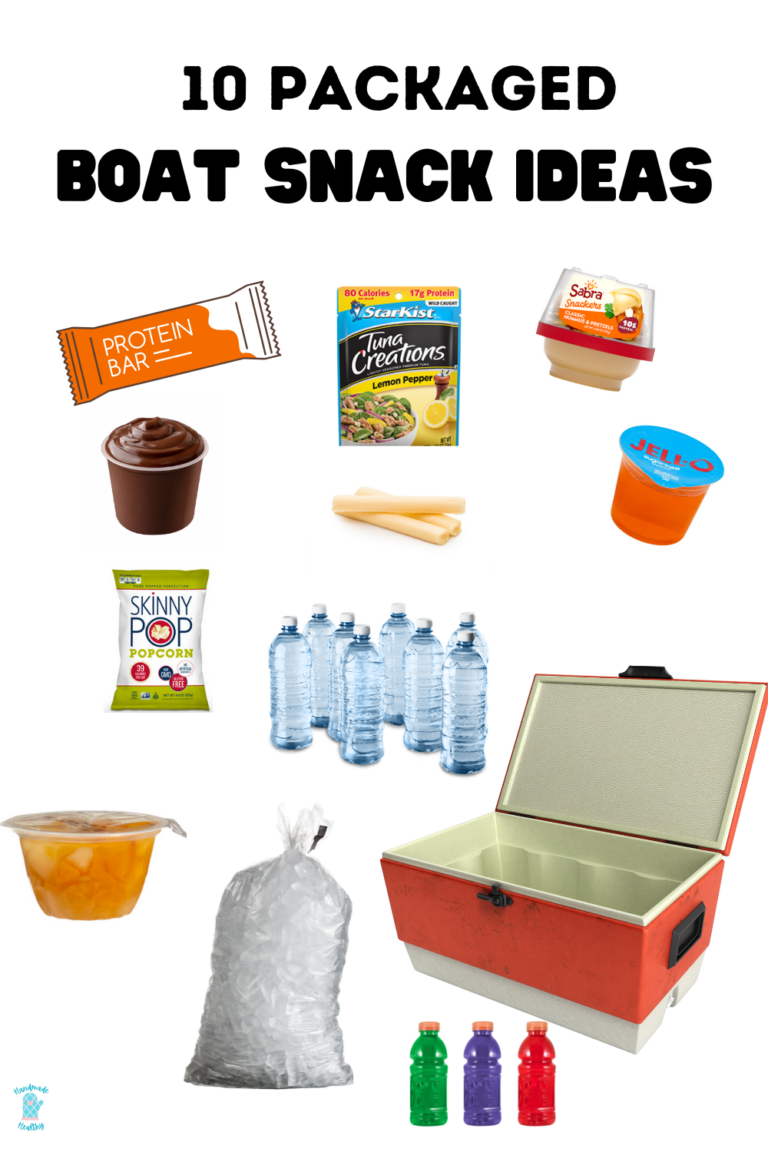 Simple Packaged Snacks to Pack for a Boat Ride
Snacks that are packaged make packing for a boat ride super convenient.  There are lots of options to fit into many categories of foods.  The packaged snacks listed below are simple solutions to pack in your boat snacks bag. Here are a few suggestions for packaged snacks for the boat.
Protein Bars
There are certainly a variety of flavors of protein bars at the grocery store.  They vary in protein amount as well.  Find one that suits your needs and keep it on hand for an easy packaged snack.
Tuna Packets with Crackers
If you are looking for an easy packaged protein on the go that does not need to be cooled or refrigerated until opened, a tuna packet is a great solution.  Tuna packets are portable and they are not packed in water, so they can be eaten straight out of the package.  These are great for adding to wraps or salads as well.
Salmon Packets with Crackers
Similar to the tuna packets, the salmon packets are a very satisfying snack that is protein packed and also have those omega 3 fatty acids that help to keep us full and satisfied.
Hummus and Pretzel Packs
Your grocery store may have the hummus and pretzel packs that are packaged and ready to eat.  These are a cold snack and great for a day out on the boat.  However, if you do not have the ready made packs, then you can make these yourself in a container.
Packaged Pudding Cups
These packaged pudding cups are usually shelf stable until they are cooled or opened.  Check your package directions.  They make an easy snack, but remember to bring a spoon for these yummy treats.
Packaged Jello Cups
Similar to the packaged pudding cups, don't forget that spoon!
Best Boat Appetizers That Are Easy To Make
When you are looking for easy boat snacks, some easy boat appetizers may be just what you desire. The following are summer appetizers for the boat that will also work all year long.
Deviled Eggs
Sometimes you may be able to find deviled eggs packaged and ready to serve at the grocery store.  These are great for grab and go.  It is important to keep these cold. 
Charcuterie in a Box
One of my favorites on the list just because they are fun! Think of these charcuterie in a box as a lunchable for adults.  Basically, you package meats, cheeses, fruit, and something salty like olives and crackers.  The box that you pack the charcuterie in should be a nice sealed container.  Again, these are definitely for the cooler.
Click here to see the Best Bread for Charcuterie Board.
Pinwheels
Easy to make pinwheels are a perfect finger food appetizer for a hot day.  Using a flour tortilla wrap topped with cream cheese, meat of choice, and lettuce, roll them up and cut them.  These pinwheels are simple and delicious. Keep them cold until service.
Blueberry Muffin
If you feel like baking the day before your boat trip, make a dozen muffins to take along for your trip.  They make a great brunch snack or early morning portable breakfast snack as well.
Salad Spring Rolls
If you like salads, you will love a salad spring roll.  Mix your salad greens with your favorite dressing.  Using spring roll papers, follow the package directions, add your salad, and roll them up.  This makes a salad for the boat ride without having to try to eat it with a fork.  Imagine lettuce flying in the wind … Oh no!!!
Frozen Smoothies
Make your favorite smoothie and freeze.  As the day goes on, the smoothie will thaw a little.  Eat it as an icy smoothie bowl.
Best Boat Snacks to Keep You Full
The following ideas are a great snack for a boat ride of if you just need a snack to bring on a road trip. Boiled eggs are first on the list.  They are a nice source of protein that can be prepared ahead.  Remember keep cold foods cold.
Hard-Boiled Eggs
Granola Bars
Pasta Salad
Peanut Butter
Turkey and Cream Cheese Wrap
Chickpea Salad Wrap
Handmade Healthy Boat Snack Ideas
When it comes to craving a nutritious snack, there are so many cool snack options.  We have several healthy boat snack ideas for you. These are general nutritious snacks that are simple and easy to pack and not specific to any particular type of dietary intake. In regard to healthy snack ideas, we have the following suggestions.
String Cheese
Easy portable and packaged ready to eat.
Trail Mix
Make your own trail mix or buy a ready made package.
Portable Fruit Cup
These cups can be eaten with utensils or without.
Apples with Peanut Butter and Chocolate Chips
Have you ever heard of apple nachos?  This is similar except just with three ingredients.  A super delicious snack that will make you think you are eating dessert.
Hydration and Sports Drinks
Always have your hydration with you.  This is super important. 
Fresh Cut Fruit Cup from the cut produce section of the grocery store.
Veggie Sticks
Pair veggie sticks with a dip or have it on its own.
Watermelon Slices
With its high water content, watermelon and most melons like cantaloupe and honeydew are great to bring on a boat trip.
Banana Chips
Shelf stable, easy to grab and go.
Boxes of Raisins
Similarly, shelf stable, and easy to grab and go.
Fruit Salad
Grab a fruit salad that is prepared at the grocery store, or make your own.  Fruit salad is one of my favorite ways to use fruit that is about to turn overripe.  
When the fruit is chopped and mixed, the juices from the fruit combines nicely making a delicious fruit salad.  In addition, squeeze a little fresh lemon or lime juice on it.
Fruit is one of my favorite choices because it is a source of hydration with water content, it has fiber, and vitamins and minerals.  Most people do not eat their recommended fruit amounts, so the boat ride is perfect for getting those fruit servings in a delicious and refreshing way.
Remember Your Cooler and Ice
When you go on a boat ride, you will most likely be looking for a cool snack and beverage.  Remember to get your cooler and ice ready for the ride.  
If you don't want to bring ice, you can freeze water bottles the night before and use them as a functional cooling system for your cooler. 
Ice packs are also a simple and convenient packing solution.  Be sure to have enough ice packs in the cooler to be able to keep all cold items evenly cool.
Keeping cold foods cold is very important for food safety measures.  Items such as cheese, hummus, and fresh vegetables for example will be best kept at cool temperatures.
Cold beverages are always welcomed on a your next boat trip. It's always refreshing to have that cold beverage, such as water and sports drinks on a sunny day out on the water.  Keeping hydrated is extremely important and also essential to having a great day on the boat.  Dehydration on a boat trip is not idea and is very dangerousl, so always be prepared.
Pack (at least) 1- 20 ounce bottle of water and 1- 20 ounce sports drink per person per hour that you plan to be on the water.  So if 3 people are going on a boat ride for 3 hours, that would be 9-12 bottles of water and 6-9 sports drinks at a minimum.  Always pack extra for unexpected extensions of the day.
In addition, the amount of water and sports drinks needed can vary according to the person, the temperature of the day, and also the activity level of the individuals.
Best Food Storage Essentials for Boat Snacks
When you go through the trouble of planning your day out, packing a great boat snack, and loading up the boat, you want to make sure it packed securely.  
There is nothing worse than pulling out a snack that is wet from the ice chest or cooler.
Resealable Bags and Tightly Sealed Containers
Using snack size resealable bags are perfect for packing however, sometimes the moisture can get through it or it can sweat.  If you pack in a resealable bag, place them inside of a tightly sealed container.  This will give an added layer of protection to the snack. 
For items that contain moisture, such as chopped fruit and vegetables, pack these in a sealed container and throw those into the ice chest. 
The idea of the "snacklebox" is great because this a nice big sealed container that can fit on top of the ice under the closed lid of the ice chest.
Healthy Tips for Packing Boat Snacks
When you pack your snacks fro the big trip, you want to have a healthy option.  Here are a few tips for packing a nutritious snack for a boat ride.
Keep cold foods cold.
Include protein choices
Include choices with fiber
Include fruit (fresh fruit or frozen fruit) choices
Keep water and sports drinks or electrolyte water with you
Bring hand sanitizer and/or hand sanitizer disposable wipes
What other tips or lists would you like to see on Handmade Healthy?
One easy idea for a quick breakfast on the way to the boat ride is have a smoked salmon breakfast. 
Smoked salmon can be combined with many breakfast foods to make a protein packed breakfast.