So you want to build the perfect charcuterie board… but you have been searching for the best bread for charcuterie board. Well, you have landed in the best spot to learn about the best bread options for charcuterie boards. Not only that, but you are going to find out what options for low carb and gluten free breads as well.
At the end of this post, we give the low down on the Handmade Healthy choices as well.
So – let's get started!
Get Ready to Create the Best
Charcuterie Board
First of all, there are tons of different types of themes for charcuterie boards that you can make. For example, you could make a breakfast charcuterie, a veggie meat and cheese board, or even a seasonal board.
The good news is that you can easily make a delicious charcuterie board for any occasion.
Charcuterie boards are perfect for all occasions.  Here are a few ideas for occasions to make a charcuterie board:
Holiday Gatherings
Charcuterie boards are perfect for family and friends gatherings.  There is something for everyone to snack on to keep guests satisfied and happy until the main meal is served.
Birthday Parties
From kids parties to adult parties, a charcuterie board is a welcomed item.  The board also doubles as a perfect centerpiece for your party table. The types of items on the board can also be kids friendly to adult friendly.
Brunch at Home
A brunch board is great for family weekend meals.  Create everything from a waffle board to a pancake board.
Football Games
Charcuterie boards make a perfect snacking item for game time.  Adding items like nuts, cheese, pretzels, and popcorn make it a great game time snack.
Indoor Summer Parties
Several items on the charcuterie board are best if they are kept indoors.  Therefore, if you have a your snacks inside for your summer party, a charcuterie board will be a crowd-pleasing food display.
Learn how to make your charcuterie board and the best bread. 
How to Choose a Bread for Your Charcuterie Board
Choosing the right bread for your charcuterie board will depend on a few things.  When choosing the bread option, consider the following:
1. Pairings on the Board
What other items are on the board.  A soft bread may be better with meat or fruit.  A harder bread that is more of a toast may pair better with your cheeses. 
For instance a soft cheese would pair better with a toast type of bread (especially if it need to be spread) and a firm cheese would pair better with a softer bread option.
2. Personal Preferences
Use what you like! If you are feeling adventurous try something new.
3. Guest Preferences and Tolerances
If you know that certain guests may have preferences whether it is for food intolerances or special diets that they are following, you can offer options for them as well.
19 Best Bread Ideas for
Charcuterie Board
1. Sliced Brioche 
This bread is best sliced into bite-sized pieces on your charcuterie board.
2. Crunchy Crostinis 
One of the most versatile bread options in the bakery aisle.
3. Naan Bread
Cut naan bread into triangles for the perfect charcuterie bread option.
4. French Bread Baguettes
A nice crusty bread that will pear well with anything on your charcuterie board.  Preferably, get the heat and serve for the best flavor and texture.
5. Pita Bread 
There are several options for pita bread including whole wheat, whole grain, and white.
6. Packaged Bread Sticks
If you want a really easy item to add to your charcuterie board, packaged bread sticks are very convenient. What is great about these bread sticks is that they are crunchy and easy to dip and work well with all of your items on your board.
7. Artesano Bakery Bread 
A nice high quality bread that is also affordable.
8. Melba Toast
These crunchy toasts are a simple item to add to your board.  However, these are very hard bread items, so just make sure this works for your guests.
9. Mini Bagels
These mini bagels add a great shape on the board which helps the eyes move around the board.
10. Seeded Grain Bread 
A nice heart bread (ex. Dave's Killer Bread) is an easy addition.  Cut the bread into triangles so that they look good on the board.
11. Thin Bread
There are several options of thinly sliced bread available.  One example is Orowheat.
12. Bruschetta Toast
This would be more of a prepared item but perfect for your charcuterie board.  Bruschetta toast consists of a crostini type of bread topped with bruschetta spread.
13. Texas Toast
Yes, this is the Texas Toast that is in the frozen department.  Guests will love this option on the board.
14. French Toast Swirl Bread
If you are looking for a sweeter bread options, this is an easy go to item.  These would really pair well for a breakfast or brunch board as well. 
15. Pumpernickel
Slightly sweeter rye bread which has a darker color. The darker color will give your board a nice color variety.
16. Jewish Rye Bread
This Jewish rye bread can easily be found in well known brands such as Pepperidge Farm.
17. Sourdough Bread
A great bread to serve in larger bite-sized pieces.
18. Low Carbohydrate Bread
For your guests that may be watching their carbohydrate intake, there are several options for lower carbohydrate or lower net carbohydrate options.  One example is Sola bread which has 1 gram net carbs in some of their breads. 
19. Gluten Free Bread 
For your guests that may be looking for a gluten free option, an example of this bread is Schar Artisan Baker.
Note: This post is not sponsored.  There are several options for brands of all the types of bread listed.  Brands named are not associated with Handmade Healthy, they are just examples.
How to Serve Bread on Your
Charcuterie Board
Have you ever heard the saying "we eat with our eyes first?"
When creating a charcuterie board, visual appeal is important.
Balancing Your Board
So let's talk about how to cut bread for your charcuterie board to make that visual appeal.
Starting with a Square Shaped Bread
Before adding your items to the board, look at the shapes of the items.  Similarly, take into consideration the shapes of any bowls that you may be adding as well.  For example, if you have a bowl of hummus or olive oil, what is the shape. 
Typically, there will be more round shapes or rectangular shapes.  Therefore, cutting square bread into four triangles, will give your board a great visual appeal.
Starting with a Large Whole Bread (such as French Bread Baguette)
This bread will have to be sliced in some shape or form.  Similar to the square bread, look at the shapes of the items that you are adding to your board.  What shape is missing or what shape is the least? That is the shape – basically you have a choice with this type of bread, round slices or bite sized pieces.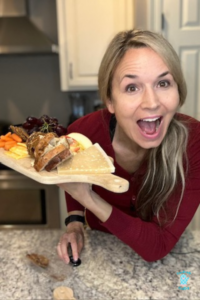 Charcuterie Board Pairing Options
Charcuterie boards have really evolved into so many options. Charcuterie used to mean meat and cheese, however, there is really a charcuterie board for all occasions and a variety of themes.
Crackers
Of course, crackers are always a welcomed item on the charcuterie board. Add crackers with bread selection or instead of bread.
Cheese
Include at least 2 types of cheeses. Keep it simple with snack cheese or cheese cubes, or you can get fancy with blue cheese or fresh Parmesan wedge.
Sweet Spreads
One popular style of sweet spreads is a pepper jelly. Pepper jelly lends itself to a nice flavor that pairs well with a variety of cheeses, meats, fruit, and breads.
Variety of meats including cured meats
Traditionally, many people add salami or Proscuitto. However, it's a free for all. If you want to add pepperoni, sliced turkey, smoked ham, or more.
Olive oil
A small dish of olive oil with fresh herbs pairs in a fantastic way with your bread selection.
Honey
Similar to the olive oil idea, honey is a nice addition to the board to pair with cheese, bread, and more.
Savory spreads
One savory spread that is very popular is hummus spread.
Variety of textures
Adding items with a variety of textures will create interest on the board. In addition, the textures will also give the mouth feel of the board a unique touch.
Find more pairing ideas for a dinner worthy charcuterie board.
What are the Handmade Healthy Choices for Bread for Charcuterie Board
Here at Handmade Healthy, we are looking for a few things when it comes to the best choices for bread for charcuterie board. 
There are so many choices, but if you are looking for a bread choice with more nutritional value, here is a tip plus a bonus tip:
1. Look for bread with fiber.  
Fiber will help with the feeling of fullness and promote digestion, along with a slew of other benefits.
Here are some of the breads with fiber:
Whole Wheat Pita Bread
Seeded Grain Bread
2. Add fruit and vegetables to your board for additional nutrition.  
Some of my favorite fruit to add to a charcuterie board are grapes and strawberries which pair well with many items found on the board.  
Additionally, easy vegetable options can include carrots and celery as they make great dippers and sides for the items on the charcuterie board.