When it comes to team cheer competitions, every mom wants their child to have optimal performance.  
Creating the best cheer snack bag ideas are perfect for providing snacks that will not only boost their spirit but also their performance. 
Like all athletes, the performance of cheerleaders is greatly dependent on many factors including good nutrition.  Therefore, their cheer snack bags should be filled with not only school spirit items but also a healthy snack and hydration.  
Cheerleaders need lots of great snacks to help them with endurance. Cheer practices are lots of hard work.  Not only that, but they spend a lot of time learning routines for their cheer team. 
Cheer season can last the entire school year.  Additionally, cheerleaders are busy during the summer with cheer camps and lots of preparation for the school year.  
It is important for cheerleaders to keep lots of school spirit.  Moreover, sometimes the cheer team may need a little motivation themselves.  That's where cheer snack bag ideas come in handy.  Not only that, but we have lots of ideas for a variety of occasions throughout the year.
This blog contains affiliate links, click to see disclosures.
There are several items noted for cheer goodie bag.  
These categories include the following: 
Cheer Snack Bag Ideas
How to Make Cheer Survival Kit
School Spirit Items for the Goodie Bag
Gift Ideas for Cheerleaders Gift Bags
These cheer snack ideas that we have for you below are perfect for adding to a cheer survival kit and cheer gift bags.  All cheerleaders will love to receive some great hydration, snacks, and cheer swag ideas as well.  Check out all idea groups below for 17 plus cheer snack bag ideas.
Cheer Snack Bag Ideas
Let's get to the snacks!!!  There is something that all cheer snack bags should have, that's healthy snacks in their cheer bag!
Just because we are talking about healthy snacks doesn't mean that we can include something fun like occasional chocolate bars as well.  Cheer snack bag ideas can be fun and playful and the perfect good luck gift for cheer camps and team competitions.  
Cheerleaders have a lot of team spirit, and they deserve a special snack bag that will be fun yet provide the energy they need.  Here is an example of reusable gift tote bags for cheer snack bags.
Here are 10 cheer snack bag ideas to think about packing: 
#1 Energy Bar
#2 Granola Bar
#3 Baked Chips
#4 Apple
#5 Banana
#6 Nut Butter Packet
#7 Dried Fruit
#8 Pretzels
#9 Electrolyte Drinks 
See more ideas for snack bags below.  You can combine ideas for all different types of cheer bags.
These are just a few examples of items that are fun for the cheer snack bag.  
However, there are so many more items that can be added and customized to be something fun to which to look forward.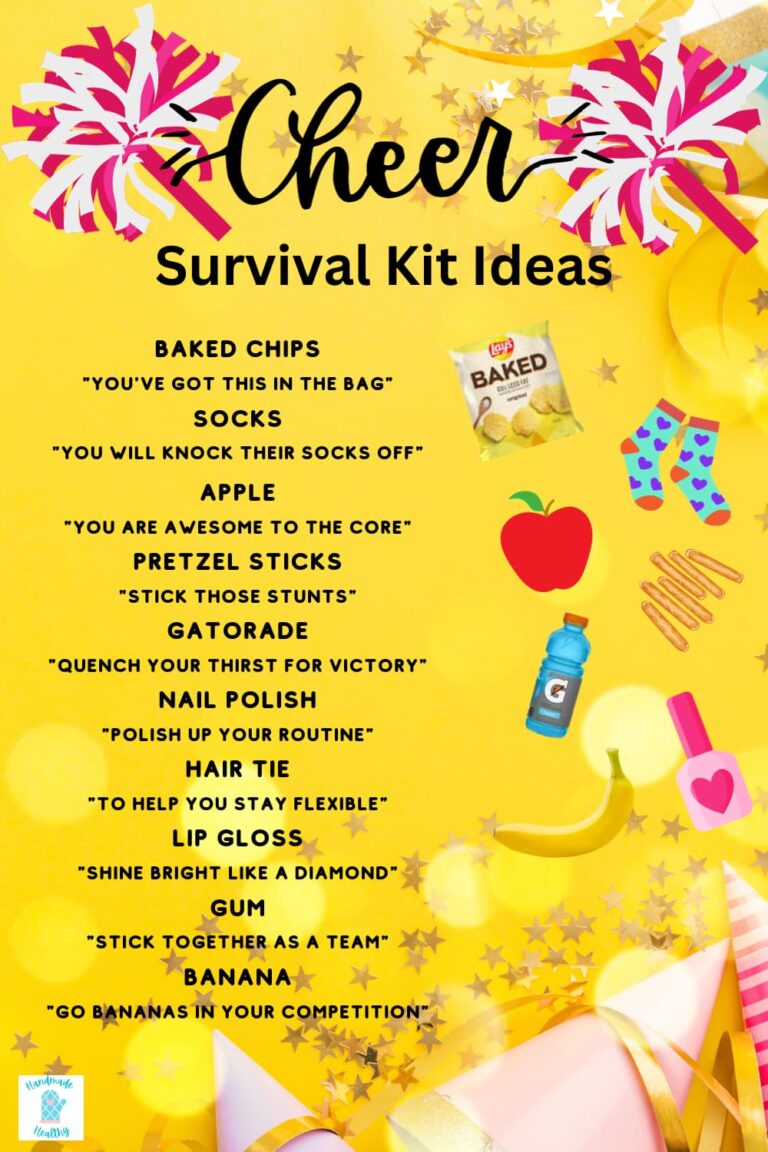 How to Make Cheer Survival Kit
Every cheer mom needs a cheer survival kit!  The survival kit can be customized and personalized to whatever your cheerleader likes.
Here are some really cute ideas for a functional cheer survival kit: Using each of these fun little sayings, create cards to attached to each item.  
#1 Baked Chips
"You've got this in the bag"
"You will knock their socks off"
#3 Apple
"You are awesome to the core"
#4 Pretzel Sticks
"Stick those stunts"
#5 Gatorade
"Quench your thirst for victory"
#6 Nail Polish
"Polish up your routine"
#7 Hair Tie
"To help you stay flexible"
#8 Lip Gloss
"Shine bright like a diamond"
#9 Gum
"Stick together as a team"
#10 Banana
"Go bananas in your competition"
Which one of these is your favorite?  They are all really fun and a great way to surprise your cheer team member.  
Moreover, it doesn't have to be costly to create something fun.  However, it may take a little creativity, but it will be appreciated and remembered by your athlete.
School Spirit Items for the Cheer Goodie Bag
Every cheer goodie bag needs something special. The best part of the cheer goodie bag and snack bag is adding school spirit items. 
Cheerleaders are all about school spirit through and through.  So grab the team colors of items that you can add to the bag.  
Here are some great ideas for the school spirit items for the cheer goodie bags:
Hair Ties
Cheerleaders go through hair ties quickly whether they break or get lost. Therefore, having some extra on hand is always a necessity. 
School Spirit Charm Bracelets
The charm bracelet can have the school letters on it, a mascot charm, or the school colors.
Charm Hanging Pom Poms
School color pom poms are a great addition to the cheer goodie bag to use as a decoration. 
Lip Balm
Adding cheer lip balm to the cheer goody bag is a great addition.  Lip balm comes in many different flavors, so it's a great way to add a little something extra.
Gift Ideas for Cheerleaders Gift Bags
There are some really fun items that you can add to your cheerleader gift bags.  It's not difficult, all you have to do is keep it simple.  The ideas below can be separate gift ideas or you can combine them into one bag. Your cheer team will feel like the star of the show.  
Cheerleading Bag
First, grab a cute cheerleading bag.  The bag can be a reusable bag so that they can use it over and over.  There are lots of cute cheerleading bags that have great cheer sayings and slogans, or they just say "cheer."  These are cute cheer drawstring bags.
Personalized Bag
You can get a cheer bag with a personalized team name or the cheerleader's name on it.  Personalized gifts are always fun and can make your cheer fan feel extra special.
Cheer Zipper Pull
What is a cheer zipper pull?  Cheer zipper pulls are personalized cheer zipper pull key chain with letters and charms.  See cheer zipper pull here.
Gift Cards
Of course, who doesn't love a gift card?!  Add a gift card to the cheerleaders gift bags.  Even if it is just a small amount, it is just so much fun to have a special gift card in the cheer gift bag.
In summary, when you think of school spirit, who do you think of? The cheer squad, of course. The cheer team is known for fun and energy. The ideas on this post are filled with easy ways to show appreciation and support for the cheer team and their hard work.
The ideas listed above are also perfect for gift ideas for both a birthday party and seasonal celebrations. Another way to use the ideas here is also to surprise the cheer team with a nice snack bag on the transportation to the big game.
In addition to these ideas for the cheer team, think about any athlete that you support. All athletes love to feel that their hard work and dedication to their craft is appreciated. Build a snack bag or goodie bag for those special athletes in your life.

If you are looking to add more candy alternatives to the goodie bag, check out this post.