Welcome to the pink food list!  We are talking all things pink – mostly naturally pink foods.
Have you ever heard the saying "eat a rainbow of fruits and vegetables?" If you haven't, that's okay, but there is reason why I say eat the rainbow all of the time.
The reason is because in the variety of colors, there are a variety of nutrients. 
Foods that are pink are due to their phytochemicals in the food. The color pink is related to the color red.  The red color of tomatoes is due to the carotenoid lycopene. Lycopene is an antioxident.
Additional food sources of carotenoids are apricots, carrots, cantaloupe, tomatoes, peppers, sweet potatoes, and squash. 
Oddly, there are also green vegetables that have carotenoids.  The green vegetables' color is masked by the chlorophyll.
Additionally, flavonoids is another type of phytochemical.  Food sources of flavonoids include berries, purple grapes, and citrus fruits.
Foods That are Pink Naturally
Naturally pink foods or foods that are in the area of the rainbow near the red and orange are recognized by the Dietary Guidelines for Americans.  Dietary Guidelines for Americans in the 2000 calorie level recommends that daily amounts of red and orange vegetables are 5 1/2 cup eq/ week.
If you would rather make food pink naturally versus red or pink food coloring, there are may pink foods here.  
Beets are a common way to boost the pink color in foods in a natural way. I have also seen products that use a beet powder to add natural color in their products instead of artificial coloring.
Beet Root Powder is 35 calories per 1 Tablespoon. It also adds iron, calcium, and potassium to the recipe.
Think Pink - Pink Food List
Keep in mind as we go through each food that is a "pink color," the color can be relative.  When I say relative, the colors may be some shade of pink.
It may be more of a dark pink, more of a red color.  Alternatively, the color may by more muted and more of a salmon color.
The color of some vegetables and fruits may vary somewhat depending on the seasonality and type of variety.
Watermelon
Let's start with one of my favorites – watermelon. Great for hydration due to its high water content. Such a great snack!
Red Dragon Fruit
The pink color of the dragon fruit is one that cannot be denied. When you cut the dark pink skin from the dragon fruit, you can leave a little of the rind for a bright pink color accent.
Pink Grapefruit
Pink grapefruit make a beautiful addition of color to breakfast or snack.
Pink Salmon
A great meal solution is pink salmon (or salmon colored salmon).  Air fried salmon or baked salmon is a great way to cook it.
Raspberries
Adding raspberries will help your dish have tons of color.  The raspberry makes a nice pink color to a smoothie.
Strawberries
Of course, strawberries are a red color when you look at them, however, when mixed with other ingredients especially in a smoothie, they add a nice pink color.
Pink Apples
A nice rosy colored apple that makes a dish glow with unexpected color. These would be perfect for an easy charcuterie board.
Radishes
Adding radishes to a salad is a great way to add a light sprinkle of pink color.
Beets
Beets can be used fresh, but if you want to make it easy, use canned beets. The beet juice is already a pink color. The beets themselves are nice way to add a pink color to a dish.
In addition, beets can be roasted from fresh. Beets can also be used as a natural "food dye." You can also use beet root powder to give a bright pink color to a recipe.

Pink Guava
If you don't know a lot about guava, you are not alone. I first tried guava recently. Guava has edible skins and you can bite into it. It does have small seeds in the center.
Pomegranate Seed
These seasonal beauties make such a great addition to a dish. Pomegranate seeds are a great way to add fiber and color to your dish.
Pink Rhubarb
Check this article for ways to cook and bake with rhubarb. You can make really beautiful recipes with rhubarb.
Pink-fleshed Potato
These pink fleshed potato are not the most common type of root vegetables.  If you find them, get them for your pink pop of color at a meal that would normally have less colorful potatoes.  Red potatoes are the closest more common potato.
Pink Beans
Goya Pink Beans in the can may be the easiest to find.  Not only that, but they are a great quick addition to a dish.  Think about adding these to a 3 bean salad.
Pink Kale
Another less common pink item is pink kale.  I have never seen pink kale before in person.  So if you find it, grab some to try it.
This one may be similar to a vegetable plant called ornamental cabbage and kale.
Pink Cauliflower
I have seen cauliflower in the following colors: white, purple, and yellow. However, I have never seen in person pink cauliflower.  I would love to try it. Have you tried pink cauliflower?
Pink Lemonade using natural ingredients
Pink lemonade color can be made using natural ingredients including cranberry juice, strawberries, or raspberries.
Pink Sweet Potatoes
In general more of the purple potatoes have a somewhat pink hue.  These are also called Japanese or Oriental sweet potatoes. https://www.healingtomato.com/purple-sweet-potatoes/
Pink Plums
Similar to the sweet potatoes, pink plums are more of a pinkish purplish color.
Pink Hibiscus Tea
The flowering plant hibiscus is a great way to make unique tea.  The hibiscus plant comes in several colors including pink  Here's some ways to make the pink hibiscus tea.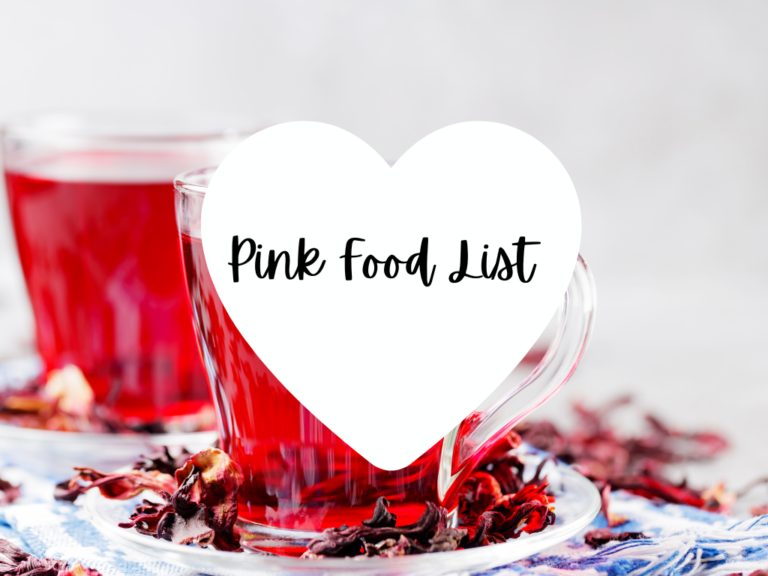 Pink Grapefruit Juice (without added sugars)
Grapefruit makes a nice pink colored juice naturally.
Pink Hummus (using beets)
Hummus combined with pureed roasted beets makes a beautiful bright pink food color.  Replace the pumpkin in this hummus recipe with beets.
Pink Sauerkraut (using red cabbage)
Red cabbage makes a nice pink color for sauerkraut.  Non-sauerkraut lovers might be more wiling to try the pink colored vegetable.
Pink Smoothies (with berries and natural ingredients)
One of the best ways to make a pink fruit dish is to make a pink smoothie.  Pink smoothies can be made with berries such as raspberries and strawberries to make a delicious flavor profile.
Pink Oats (using berries)
Using instant or whole cut oats, prepare as directed and add berries to the hot mixture.  If you want more color dispersed from the berries, puree the berries before adding to the oats.
Pink fruit salad (using various pink fruits)
Here are a few pink food list ideas that would work well for a pink fruit salad:
strawberries
raspberries
seasonal tropical fruit
pink dragon fruit
cotton candy grapes
pink strawberry yogurt
add a squeeze of lemon juice
Pink yogurt (using berries)
You can purchase pink yogurt which is strawberry flavored, or you can purchase plain or vanilla yogurt and add berries for the pink color.
Pink couscous (using beets)
Couscous is a grain that can be cooked and then mixed together with beet juice and maybe a light cream sauce to get the pink color that is desired.
Pink coleslaw (using red cabbage)
What is better than green coleslaw? Pink coleslaw, of course! That lovely red cabbage is a very versatile pink vegetable that lends itself to adding pops of color into many dishes – both cooked and raw. Pink coleslaw can also be a great pink veggies side dish or garnish.
Pink vinaigrette (using berries)
A homemade vinaigrette has an nice fresh flavor. It's not as difficult to make a homemade vinaigrette as you might think.
Moreover, if you are looking to make a pink vinaigrette here is a recipe for raspberry vinaigrette. Dip rainbow carrots in this vinaigrette and you have a delicious snack.
Pink risotto (using beets)
Another use for beets – coloring risotto. One reason why beets are great for coloring foods is that beets do not have a powerful flavor however, they do have a powerful color.
Pink ice cubes (using fruit juices)
Here is an easy one! Pink ice cubes for the win. Pink ice cubes are a fun way to make any glass of water look more exciting!
This can be a great way to encourage kids to get better hydration. Use your favorite pink colored fruit juice to start creating pink ice cubes. Add the juice to a traditional ice tray and freeze.
Pink Energy Bars (using natural pink ingredients)
Here are a couple of ideas for creating pink energy bars: add ingredients such as cranberries and freeze dried strawberries.
I am not sure if you have noticed a common theme in this article, but beets are a hidden star of the show here. Another recipe using beets to add pink color is for a veggie pink protein bar.
These energy bars are perfect for boat snacks.
Pink Protein Shakes (using berries)
Very similar to the smoothies using berries to add that pink hue, protein shakes are the same. Adding the berries to the protein shake will make the smoothie more enticing and likely more satisfying flavor.
Pink Crepes (using beet juice)
Crepes are very thin pancakes.  A very exciting way to have breakfast is to make it more colorful.  Adding beet juice (yes, beet juice again!) will have everyone waking up with a smile at breakfast.
Pink pancakes (using berries)
Similar to the crepe, pink pancakes are a winner when it comes to easy ways to brighten someone's day.
Pink Muffins (using raspberries or strawberries)
Using a standard muffin mix, you can add raspberries or strawberries for a little bit of pink color.  Be sure to use either a puree or mash the fruit so that the juice will be able to help color the other ingredients.  In comparison to other items on this list, the muffins will be more of a brown color once cooked.  They will be less of a pink color.
Pink Granola Bars (using natural ingredients)
Similar to the protein bar, it is difficult to get the whole granola bar to be pink without food coloring.  However, if you add the beet powder to the wet ingredients, it is possible. That being said you may be able to purchase a ready made pink granola bar made by Good Good.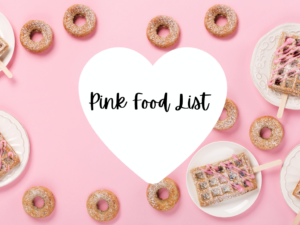 Pink Waffles (using beet juice)
Earlier we listed crepes and pancakes.  Pink waffles are super similar in the fact that adding a little beet juice will make the most beautiful pink waffles.
Pink Trail Mix (using dried pink fruits)
A pink trail mix is super fun.  Traditional trail mix includes nuts, dried fruit, seeds, cereal, and popcorn.  Thinking outside of the box, we can include popcorn (because white and pink go together), dried cranberries, freeze dried strawberries, and dried apple slices. Moreover, the nuts and seeds can be added as well.
Pink Smoothie Bowls (using berries)
Smoothie bowls are great for a satisfying treat, breakfast, or snack. The smoothie bowl can be made in a vibrant pink color using red berries. Topping for the bowl can include red dragon fruit slices, raspberries, and sliced fresh strawberries as well.
Pink Salsa (using pink ingredients)
Using ingredients like pincante salsa, cream cheese, and Mexican cheese, a pink salsa can be created. Here is a recipe for pink salsa from Kraft Heinz. Lighten up the recipe by using light cream cheese and 1/2 of the Mexican cheese.
Pink Pasta (using beet juice)
Making pasta from scratch is a fun activity.  Adding beet juice to the egg when making fresh pasta will make the pasta dough a nice pink color.
Pink Rice Cakes (using natural food coloring)
The rice cakes made it to the pink food list because if is a blank canvas ready for pops of pink.  Using a traditional rice cake, add strawberry yogurt on top.  Top with your favorite pink toppings.
Pink Salad Dressing (using berries)
As described above under "pink vinaigrette," a pink salad dressing is a great way to add some fun to a standard salad. 
Use the examples for pink vinaigrette to create a pink salad dressing. The pink vinaigrette is one of my favorite items on the list of pink foods.
Pink cocktails/mocktails (using natural ingredients)
Here is a very pink cocktail by A Couple cooks.  Jazz up your gathering with this fruit forward beverage or make it into a mocktail (non-alcoholic) beverage.
Pink Pearl Apples or Rose Apples
I haven't seen these beauties in person, but wow what a vibrant color found in pictures. Learn more about this unique variety of apple.
Pink Lemonade Blueberries
I am first in line if you find these pink lemonade blueberries. Here are is more information about Pink Lemonade Blueberries.
Pink Oyster Mushrooms
These pink beauties are not commonly found in grocery stores. Misfit Mushrooms boasts about the pink oyster mushroom's protein and fiber content.  
This one is definitely one of the most unique pink vegetables.
Himalayan Salt
Pink Himalayan Salt has gain popularity due to its pink color.  In addition, many people prefer to use this in meat rubs and cooking fish.  
Strawberry Ice
A sweet treat made of blended strawberries and sugar cooked to a boil then cooled and frozen is called strawberry ice.  Additionally, this is similar to pink ice creams or strawberry ice cream however without the cream.
Pink Peppercorns
Peppercorns are commonly found as black peppercorns.  A pink peppercorn is a dried berry according to Wikipedia.
Swiss Chard
One of the most beautiful plants in the produce section of the grocery store is Swiss chard.  Although the leaves of the chard are green, the leaf blades have a pink color.  That is why this one made the pink food list. Swish chard has gotten more commonly found in stores.  However, many people are not familiar with ways to cook it.
Here is a resource for basic Swiss chard cooking.
Lilly Pilly Berries
These unique specialty berries have a unique clove-live aroma according to Specialty Produce.  Learn more about Lilly Pilly Berries here.
Prickly Pear
A member of the cactus family which has become more main stream with its use in beverages and flavors featuring prickly pear.
Fresh Figs 
One of my favorite fig finds is the tiger fig.  It has a red pink flesh inside with a yellow and green striped skin.
Red Onion
Very common red onions are one of the best ways to add color to a cooked or raw dish.  Red onion peels can also be used to add a pink color instead of food coloring. 
Cara Cara Oranges
These beautiful oranges have a gorgeous flesh when sliced open.  Cara Cara oranges are one of my favorite items at the height of the citrus season.  These can commonly be found in grocery stores when in season (winter months in the U.S.). 
Rose'
Rose is made from red wine grapes which gives it the pink color.  Here is a guide to rose for more information.
Ideas for Pink Food List Recipes
Healthy Pink Party Snack Ideas
Pink food lists work great for party snack ideas.  The color pink exudes fun, and these foods will make your party table a big hit.
Perfect Occasions for Pink Foods
The color of pink foods are great for any occasion. 
Here are a few ideas of parties that will be super for a pink foods:
Baby Shower
Baby Girl 1st birthday
Pink-a-licious Party
Minnie Mouse Themed Party
Classroom Party for Pink Week
Cancer Awareness Pink Ribbon
Valentine's Day
Easter Party
Spring Season Party
Are you surprised at the number of pink foods there are?  I know I am shocked when I look at this complete pink food list.  When you look at the colors of produce and all of the varieties of shades of color, it draws an appreciation for the abundance that we have to choose.  
Even if some of these items are not available in your area (there are several that I have not seen), it is great to be able to learn more about it.  If you travel to a location that has the item, try it out. There are sometimes seeds available depending on the climate in which you live.
I hope you enjoyed this pink fruits and vegetables list along with a few pink food recipes.  There are healthy pink food list along with natural pink food list which can give us ideas for unique items to try or make at home.  If you didn't recognize some of the pink food names, feel free to read more about them with links shared.
Next time you are thinking of what to eat, think about what pink foods for dinner would pair well with your other dishes.
Are there more pink foods that you think would be great for this list? Comment below.